Testimonials
March 2018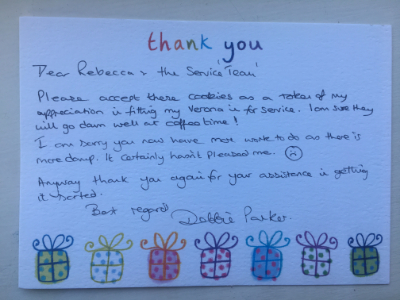 Thank you... Dear Rebecca + the Service Team, Please accept these cookies as a token of my appreciation in fitting my Verona in for service. I am sure they will go dam well at coffee time! I am sorry you now have more work to do as there is more damp. It certainly hasn't pleased me. :( Anyway thank you again for your assistance in getting it sorted. Best regards, Debbie Parker.
Debbie Parker.
Thank you so much for fabulous service in buying our new to us motorhome. Thanks to Jody White for sorting the deal and helping us to find the right van for us. We've dealt with Jody in the past and he's as honest and helpful as always. The handover was fabulous and Jaki was very helpful and knowledgeable and gave us a very smooth and helpful handover. All the staff were very polite and helpful. And we even got a night at a local campsite to check everything and settle into the motorhome. Thank you again for a beautiful motorhome and we we're especially pleased with all the extras and work that had been done pre delivery.
Sylvia and Mike..
February 2018
Hi, I need to tell you about the excellent service I received from Rebecca when I had a problem with the remote control for the mover on my caravan whilst away in Cornwall. She contacted the supplier and arranged for a replacement controller to be sent to me as soon as I got home. All was done without me being aware of what she had done until it had all been arranged....excellent service and so thoughtful. Best wishes. Colin Dawe.
Colin Dawe.
Many thanks to Tracy and all the staff that we came into contact with during the time spent collecting our motorhome on Thursday 1/2/2018. It was a pleasure to meet so many friendly and helpful people and a special mention goes to Paul for his attention to detail in handing over the van. Many thanks once again, Lynn & Mike Baldwin. Elddis Firestorm 100
Lynn & Mike Baldwin.
Big thanks to Chris F in after sales for going the extra mile in his outstanding service to me. We bought a new van from you in Dec 2017,we live 300 miles from you, I was nervous in case we had any issues when we first started to use it. Well we had a few issues,added to the issues were the time pressure of us being booked on a Ferry to Spain on Sunday the 4th Feb...I have given myself 5 days to get to grips with the new van. Having worked for the Virgin group of companies where service to customers is driven right from RB himself,it was refreshing to find another company where a member of their staff took great care.expertise,understanding and empathy with my issues . Chris..was attentive,knowledgable, and patient ...and most importantly delivered solutions to my issues , always reminding me that his aim was to get me on the ferry for the start of my holiday today. I' m writing this at the ferry port. Your great customer care ,delivered to me over the last few days had made me an ambassador for your company. Thank You.
Vince O'Donovan.
December 2017
Dear Sir.
I would like to place on record how helpful one of your staff have been over my purchase of a Rapido 9090 df motorhome. I only know him as "TERRY" in after sales.
He is always keen to answer all sorts of initial problems, come up with answers, and has been especially knowledgeable over a windscreen wiper problem on my motorhome.
I have bought a number of products over the years from you, and my recent purchase has been made more enjoyable thanks to Terry's help. Regards. Ashford Price
Ashford Price. Wales
October 2017
Ref: After Sales Team... Please convey my sincere thanks to the team in the way they dealt with my recent warranty issues. They are without doubt the most proactive team I've had the pleasure to come across. These people will often get unhappy customers through the door so deserve recognition for their friendly helpful manner. One smiley contented customer.
Gordon Lambert.
August 2017
Hi Oliver,
Just to say a big thank you, for your help and support on our change of Caravan last week.
Once again, you delivered on excellent customer service and it was a pleasure to see you once more.
Hope to catch up with you soon.
Kind regards,
Andy & Cheryl Weeks.
Andy & Cheryl Weeks.
To the owner of Highbridge Caravans.
We feel compelled to write and tell you what excellent service we have received from Lee, when purchasing our 'Swift Escape 696' Motorhome. We originally made an appointment to view another model on 21st July, which we had found online. Having looked at this one, we decided we did not like it, so Lee chatted to us about our lifestyle, and suggested the 'Swift' would suit us. Had we not done this, we would not have gone on to purchase a vehicle. He was very helpful and well informed, but not pushy. Thanks so much for your excellent service.
Lucy & Ian Woolley. S. Devon
June 2017
I just wanted to feedback a few lines to pass on the great customer service I had from Dean Carpenter when I picked my van up on 16th June following a replacement rear panel and a service.
Despite being a Friday afternoon and clearly a peak time for customer collections, Dean was committed that once with a customer - he would see all queries through before moving on. I had a small issue with a part that had been fitted during the service - but this was remedied without issue. An excellent job had been done on the new rear panel, and the service + other small jobs were completed as requested. If all customer service reps had Dean's approach the world would be a better place!
Robin Preston.